Plan for future: rejuvenation of Russian tourism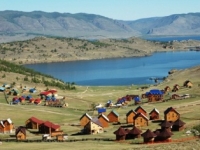 The key hurdle facing Russia's travel industry today is, without a doubt, the lack of information on holiday offers in the domestic market. Poor awareness of our homeland's beauty and richness, scarceness of information regarding tours and accommodation and outdated prices all come together to put a damper on domestic tourism growth.
WikiPlanet is Russia's first online travel agency that focuses on domestic tourism and gives its customers the unique opportunity to book and to pay for tours and accommodation via the Internet. The online service also allows customers to receive all the documents necessary for a trip in a matter of minutes without ever leaving home.
The company's employees constantly monitor its destination database, collecting the most interesting information on Russia's cultural and natural sights and finding the most exciting photo and video footage in order to help WikiPlanet users choose their vacation destination.
WikiPlanet is officially sponsoring and taking part in the IT-conference held as part of the Otdykh Leisure-2014 trade fair for travel and tourism. On September 18, the company's representatives will share their experience in increasing sales and streamlining workflow with the aid of WikiPlanet DESK software.
This software is a complex program package for small and medium hotel businesses. The main users of the software are leisure bases, mini-hotels, hunting and fishing resorts, health resorts, and recreation centers. The system aims to achieve three principal tasks: to improve the speed of booking, to establish direct interaction with clients, and to reduce the seasonal fluctuation caused by an agent network of 3 000 agents.
We invite you to attend the IT-conference "Anti-crisis IT tools in travel business", which will take place on September 18, 2014 at the Crocus Expo International Exhibition Centre. To access the conference, please fill a small registration form at www.tourismexpo.ru/leisure.
The IT-conference will be held as part of the Otdykh Leisure-2014 travel fair.
Dates: September 16–19, 2014.
Venue: Crocus Expo International Exhibition Centre.
Комментарии для сайта Cackle