New regulations on children's transportation postponed for a year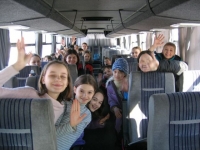 Tour operators specializing in school bus tours can breathe a sigh of relief: Russian Prime Minister Dmitry Medvedev has issued an order to postpone the enactment of Article 3 of the new 'Regulations on the organized transport of groups of children by buses' for a year, Vice President of the RST Yury Barzykin told TRN magazine.
As TRN has already reported, this article would have prohibited the use of buses that have been in service for more than 10 years for the purpose of transporting children. This would have certainly paralyzed school tourism, since, according to the RST, about 70% of buses used for children's transportation in the majority of Russian regions have been in service for more than 10 years.
The Russian Tourism Union appealed to various authorities when trying to prove the unreasonableness and bad timing of the new regulations, and as a result its position was supported by the Ministry of Culture and Russiatourism, and eventually – by the government as well.
Комментарии для сайта Cackle