Skiathos – an island and a boutique
The emerald scattering of the archipelago's Greek islands in the Aegean Sea immediately produces an unforgettable impression. Skiathos, covered with lush olive trees and century-old pines, is the smallest inhabited island of the Northern Sporades Archipelago; yet it is quite densely populated because of steep rocks and a multitude of wonderful beaches. Sand and shingly ones, wild and manmade, crowded and secluded – each of them is unique and beautiful in its own way.
Media tour participants, along with the first Russian tourists, got the opportunity to experience this exuberance when they set off for the island from Domodedovo Airport on June 1. The tour, as well as the flight program, was organized by Panteon tour operator. The company expects this summer's flight program to the Greek island to be successful. The final tour for Russians this season will take place from September 28 to October 5.
Nadezhda Tarbayeva, Panteon's Advertising Director, told TRN's correspondent that Skiathos was a new destination for Russian tourists. However, the majority of them, having visited the island with a short excursion program, want to come for a longer holiday there.
This year flights to Skiathos will be organized by VIM Airlines from Moscow Domodevodo Airport, once a week (on Sundays).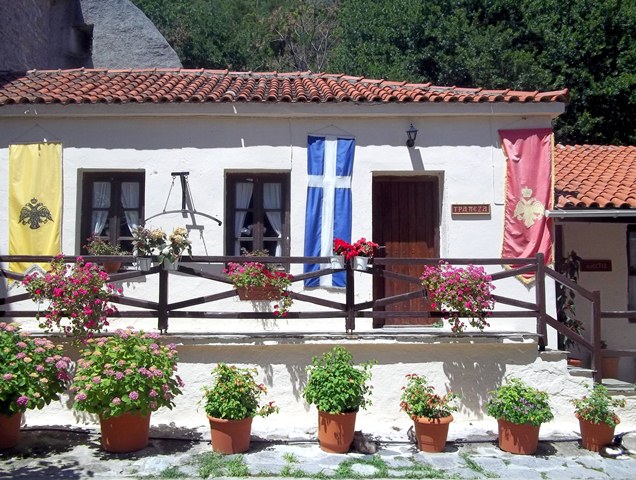 Skiathos in focus
The first Russian flight to Skiathos on June 1 was almost sold out. Tourists of different ages and income levels picked this destination; among them were couples, families with children, and "singles". Tourists settled in four-star hotels, although Skiathos has pretty decent three- and two-star hotels as well.
The price of tours to the island is a bit higher than to other regions of Greece; however, the excursions, entertainment and renting sports equipment are much cheaper here compared to, for example, the very popular Crete.


For a long time Skiathos had been considered to be a resort for millionaires, who arrived there on their personal yachts. Once an international airport was opened there in the 1970s, the island became accessible to many. Currently the airport is being modernized.
In a few years Skiathos became popular among Scandinavian, Italian and British tourists. The island is also frequented by guests from China and South Africa, with tourists from the latter country preferring to stay on the island for a whole season.
According to Nadezhda Tarbayeva, Panteon does not aim to attract each and every one of its clients to this destination, since Skiathos will probably not appeal to Russians who are accustomed to the all-inclusive hotel holidays on the resorts of Turkey and Egypt.


"There is a niche share of tourists in Russia who enjoy going to Skiathos. These are people who value the beauty of nature, prefer active holidays and like to learn something new during their vacation. Indeed, with the sheer number of things to see and do, you will find that it is virtually impossible to stay all day in a hotel while you are on Skiathos (especially seeing how they are not all-inclusive). The interest in the new Greece is growing, and, despite a slight drop in the early booking, there is every reason to believe that Skiathos will take its rightful place as a popular destination among Russian tourists," she said to TRN.
According to Sergio Stereopulos, CEO of a Greek destination-management company GatsTravel, the current accommodation facilities of Skiathos fully satisfy demand, so new hotels are not being built at the moment. The island contains 30 two-star, 25 three-star, 12 four-star and 3 five-star hotels. Also, there are 100 villas and 100 studio hotels with very well-equipped kitchens.
By the way, groceries on the island cost a bit cheaper than in Moscow, and one of the markets in the town even officially lowers is process once a week.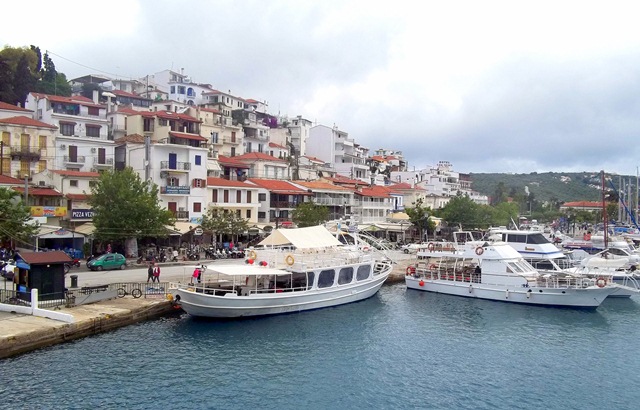 Sergio Stereopulos says that many hotels used to offer all-inclusive services, but this practice did not work out due to the fact that the majority of Skiathos tourists prefer to be left to their own devices, cook food themselves or eat at taverns.
There are also 5 hotels in the island that work year-round and are mainly targeted at business visitors.
The CEO of GatsTravel also said that for more than 20 years now Skiathos has been fostering ecotourism, which is very popular among Europeans.
There are no industrial plants on the island, which lets local farmers produce unadulterated, delicious and healthy products.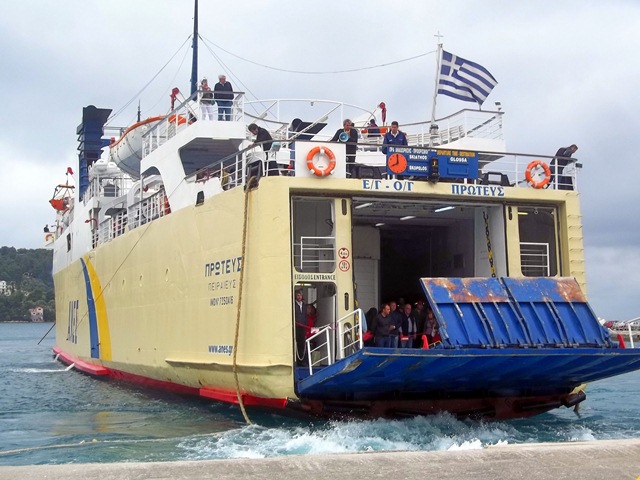 Beach tourists – rejoice!
One of the island's strongest suits is its excellent beaches. We visited many of them during the media tour, and we were genuinely impressed.
The silver sands of Kukuranis are nested inside of a pine forest. The bark of kukunaria (a local kind of pine) emits chocolate fragrance. Near the base of the beach the narrow strait from the sea turns into a small lake in the pine forest, which ducks and graceful swans have made their home. The birds behave like veritable masters of the beach and do not shy away from posing for tourists' photographs.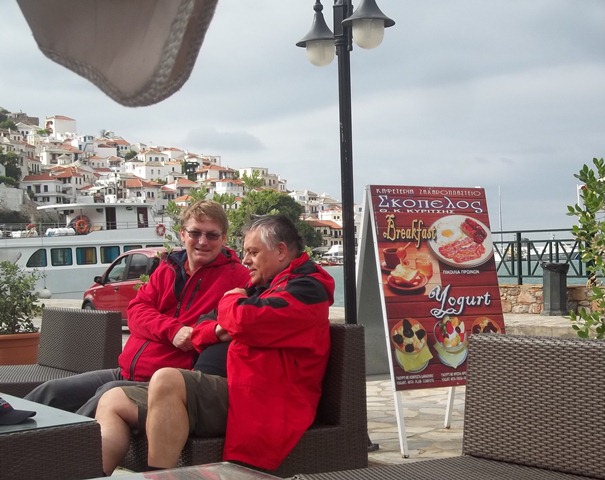 Wilderness aficionados will find the seldom-visited Mandaki, with its rocky cliffs and sand dunes, to be a perfect attraction.
The trademark features of the picturesque Lalaria are white shingle and a massive rock in the sea, which forms a beautiful arc. This beach can only be reached by sea during calm weather.
Banana beach, which got its name thanks to its unusual shape, is also quite popular among tourists. The part of the beach called Little Banana is considered to be the best nudist beach on the island. It has a water sports center and two bars.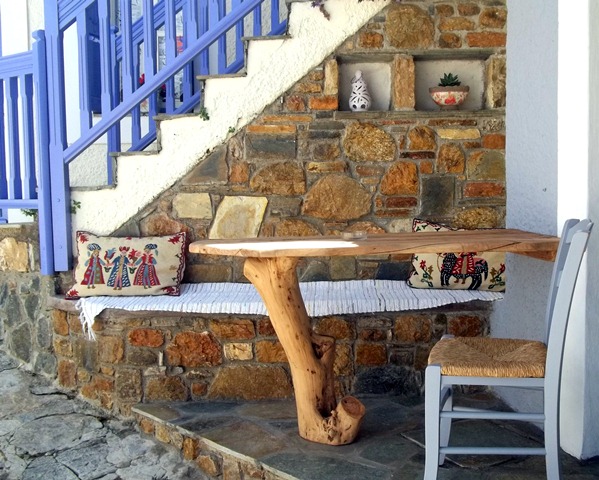 In total there are about 60 beaches on Skiathos. The majority of them have bars, lifeguards and water sports centers. Among the available activities are diving, surfing, windsurfing, parasailing and water skiing. You can also rent yachts, motor boats and canoes. The rent prices are quite affordable: a single canoe – 7 euro per hour, a double canoe – 10 euro per hour; a single parachute – 50 euro per hour, a parachute for two – 60 euro per hour; windsurfing – 20 euro per hour.
Skiathos has mild dry Mediterranean climate, which gives it about 300 sunny days a year. The coastline, peppered with beautiful bays and creeks, runs for 44 km.


After beach
Skiathos will quench even the most demanding tourists' thirst for travel. History lovers will enjoy an excursion to the medieval castle Kastro in the northern part of the island. In the 14th century it served as a refuge from pirates for the local populace.
The Island's capital, the town of Skiathos, will charm those who like to just wander around with its cozy narrow streets made up of snow-white houses with red tiled roofs. Locals are very cheerful and welcoming, and there is little to no criminal activity in the town.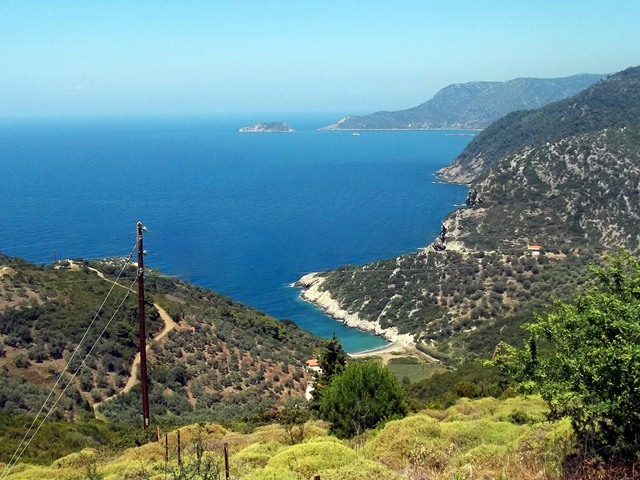 The Island's population is about 6,000 people, 50% of whom go to work in Athens (?) at the end of the season, with only fishermen and farmers staying on the island.
There are many beautiful churches and monasteries on the island. The most famous of them are: Theotokos Church (17th century), a small Kunistria Church with only one nun, and Evangelistriya monastery (18th century), located 4 km from the town of Skiathos. Interestingly, the modern Greek flag was created by the monks of this very monastery and displayed in 1807, then later it had 9 white and blue stripes added to it.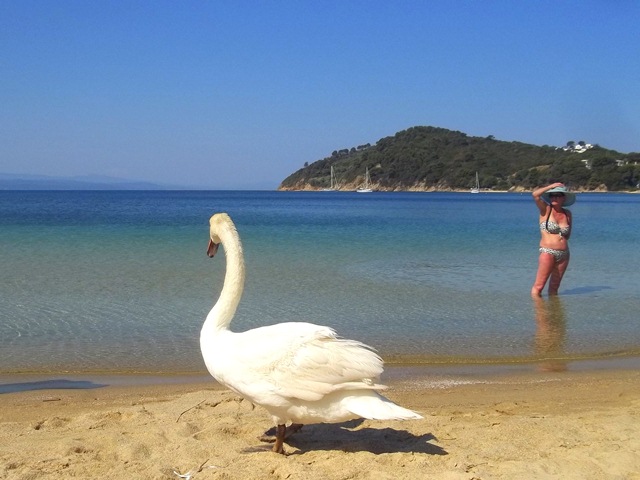 It is also interesting that not far from the Kunistria Church there is a shelter for homeless animals, where you can "rent" a dog for a walk or leave a donation, if you feel so inclined. European tourists have long appreciated this opportunity: quite a number of them like to entertain the lonely animals with a walk.
There are a lot of tennis courts on Skiathos, and there is also a horse-riding school, where experienced instructors organize training sessions on a forest plain. The price of a session is 20 euro per hour. There are also areas for mountain biking, and there are 25 routes for walking of varying length and difficulty. As for fishing, there are fishing trips organized for both beginners and experienced fishermen, which take place in the harbor, on the beach, on a cliff or on a boat. A fishing trip for a group of 3-4 people costs 60-80 euro, and for one person – 120 euro.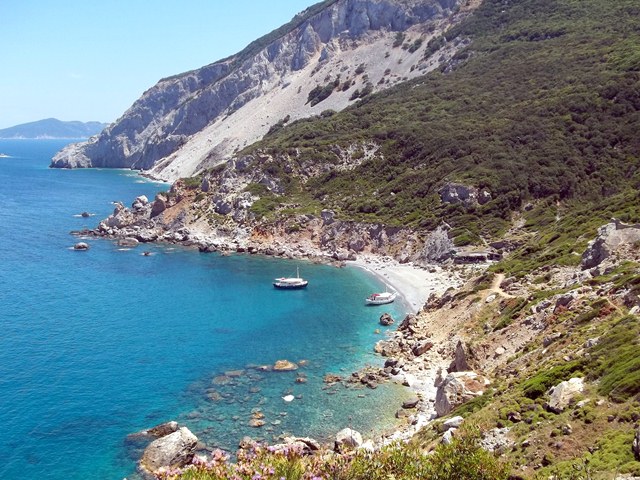 Sea excursions form the majority of the island's tourism product. A ship plies from an old port, taking tourists through the places where the movie Mamma Mia! was filmed. The excursion costs 15 euro and lasts from 9.30 am to 6.30 pm; a sandwich and a drink are included in the cost.
An excursion around the island to the Azure Grotto and the Dark Grotto, with stops at exotic beaches for swimming, will leave no one unimpressed. Desert islands Arcos and Tsougrias can only be reached on a rented motor boat for 8 euro, which will let you enjoy the beautiful nature and swim in crystal-clear water from 9.30 am to 6.30 pm. There are deckchairs and a tavern on the beach.
The neighboring islands Skopelos and Alonnisos are accessible by a ferry boat. The famous beach of Skopelos, Kastani, was the set for the final scenes of the Mamma Mia! musical.
About 40 ships sunk near Alonnisos, which makes for great diving experiences.

Skiathos Island has a well-organized transport system: there is public transport (buses, taxis, boats), as well as car, motorcycle and quad bike rent services. Quad bikes cost less and let you get to the most removed parts of the island. Car rent costs 23 euro without petrol, quad bike – 15 euro, moped – 10 euro a day, with 1 liter of petrol costing 1.83 euro. A ticket price for a scheduled bus that works from 5.30 am to 0.30 am depends on the distance, but does not exceed 2 euro. Bus drivers are locals and know the roads well.
The peak of cultural activities on the island falls on July-August. An open-air cinema shows the musical Mamma Mia! throughout the whole season – it is quite popular here. Also, concerts, festivals and art exhibitions are held here.
Restaurants and taverns serve dishes of various cuisines: traditional Greek and Italian. Bars and disco clubs work from 11 pm till sunrise. There are jazz and rock cafés, which enhance your enjoyment of the incredible night views with the sounds of music. In total, the island houses about 150 restaurants, taverns, cafés and bars that have karaoke and play the popular tunes of the 60s–70s, Latino music and modern hits.
Комментарии для сайта Cackle